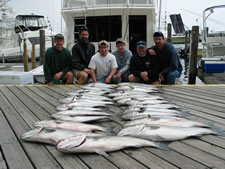 Brielle NJ offers some of the best and most diverse fishing year round. Being located on the central Jersey Shore gives the angler a distinct advantage. Due to the convergence of the Hudson River Flow and the Delaware River Flow, the area can potentially out produce either single area for a variety of species. In addition to these two watersheds, is the Gulf Stream. During the year, game fish and many tropical species are found within reach. Who says you have to travel thousands of miles to land "The Big One"?
The offshore grounds produce tuna, albacore, and a variety of game fish. Season and species sought will dictate the price and sailing schedule. Bluefish, Fluke, Weakfish, Striped Bass, Blackfish, Sea Bass, Cod, Ling, Tuna, Shark, and literally hundreds more are caught each year!
Review the chart below to see when is the best season for NJ offshore fishing.
Bluefin Tuna

Bluefish

Bonito

Dolphin

False Albacore

Fluke

Skipjack

Stripped Bass

Weakfish

Yellowfin Tuna

Jan

Feb

Mar

Apr

May

Jun

Jul

Aug

Sep

Oct

Nov

Dec


Excellent Good