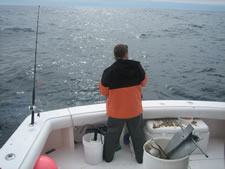 ALL FISH belong to the customer. All Tuna must be quartered before leaving the dock. Captain retains 50% of all fish sales and tournament winnings. A 15%-20% tip is customary on the NYSE-LY DONE for our crew.
A DEPOSIT ($300 for Inshore Charters and $1000 for Canyon Charters) is required to confirm your fishing date. Date will be canceled if the deposit is not received within 14 days of the reservation. Once confirmed, cancellations must be made a minimum of 14 days prior to the charter to receive a refund. All deposits should be made out and mailed to:

NYSE~LY DONE Sportfishing, LLC
621 Homestead Road
Brielle, NJ 08730
The customer will be advised on WEATHER CONDITIONS the day before the charter. The Captain makes the final decision whether the conditions are favorable or not to fish. If your charter does get canceled due to bad weather, we will try to reschedule another date acceptable to you. If the charter cannot be rescheduled, your deposit will be returned.
1 to 6 Persons
Fluke
$

1,200

Seabass, Blackfish, Ling
(Inshore)
$

1,200

Bluefish/Striped Bass
$

1,200

Shark or Inshore Tuna*
(up to 60 miles)
$

2,500

Canyon Day Troll*
(approx. 18 hours)

$5,000

Canyon Overnighter*
(afternoon troll, night chunk, morning troll)
$

5,500

Corporate Charters
please call for rates
New York City Cruises
please call for rates
Atlantic City Cruises
please call for rates
* Prices include a $250 surcharge for $3.50/gal diesel fuel.

Diesel Fuel Surcharge Index
Fuel Cost per gal.
Surcharge
$3.51 - $4.00
$500
$4.01 - $4.50
$750
$4.51 - $5.00
$1,000
$4.51 - $5.00
$1,250
$5.01 - $5.50
$1,500

Custom Tackle, Bait, and Ice Supplied